Introduction
This article provides a walk through of patent data fields for those who are completely new to patent analytics or want to understand the workings of patent data a little bit better. A video version of the walk through is available here and the slide deck is available for download in .pdf, powerpoint and apple keynote from GitHub. This article goes into greater depth on each data field and their use in patent analysis.
This article is now a chapter in the WIPO Manual on Open Source Patent Analytics. You can read the chapter in electronic book format here and find all the materials including presentations at the WIPO Analytics Github homepage.
What is a Patent?
A patent can be described in two main ways:
As a form of intellectual property right.
As a type of document.
Understanding the structure of patent documents and data fields is the essential foundation of patent analytics. However, for those who are new to the patent system it is worth highlighting the key features of patents as a form of intellectual property right.
As a form of intellectual property right
A patent is a temporary grant of an exclusive right to a patentee to prevent others from making, using, offering for sale, or importing, a patented invention without their consent, in a country where a patent is in force.
Patent rights are territorial rights - they are only valid in the territory of the country where granted.
Patents are typically granted for a period of 20 years from the filing data of an application but may be opposed or revoked.
To be eligible a claimed invention must:

Involve patentable subject matter
Be new or novel
Involve an inventive step
Be susceptible to industrial application or useful.
Patents as a type of document
For patent analytics we need to concentrate on patents as a form of document and to understand:
The structure of patent documents and their data fields.
The strengths and limitations of different patent databases as a means for obtaining patent data.
In this chapter we deal with the basics of patent documents and their data fields.
Basic Data Types
When performing patent analysis we are dealing with data of seven different types:
Dates (priority, application and publication dates)
Numbers (priority number, application number, publication number, family members, citations)
Names (Applicants - also known as Assignees - and Inventors)
Classification codes (e.g. International Patent Classification/Cooperative Patent Classification)
Text fields (Title, Abstract, Description, Claims, Sequence data)
Images (Diagrams)
Additional Information (Legal Status, Public Registry etc.)
We will walk through each of these fields using a patent application for synthetic genomes from the J. Craig Venter Institute as an example. In the electronic version each of the titles for the images are hyperlinked to their sources to make it easy to explore the data as you go through them.
Patent Registers
Additional information on a patent document is typically available by consulting patent registers on the national or regional level. In the case of European level applications, more information is typically available through the EP Register button on the front page. If we select this for our WO document we will be taken to the EP Register entry for the European family member EP1968994. As below.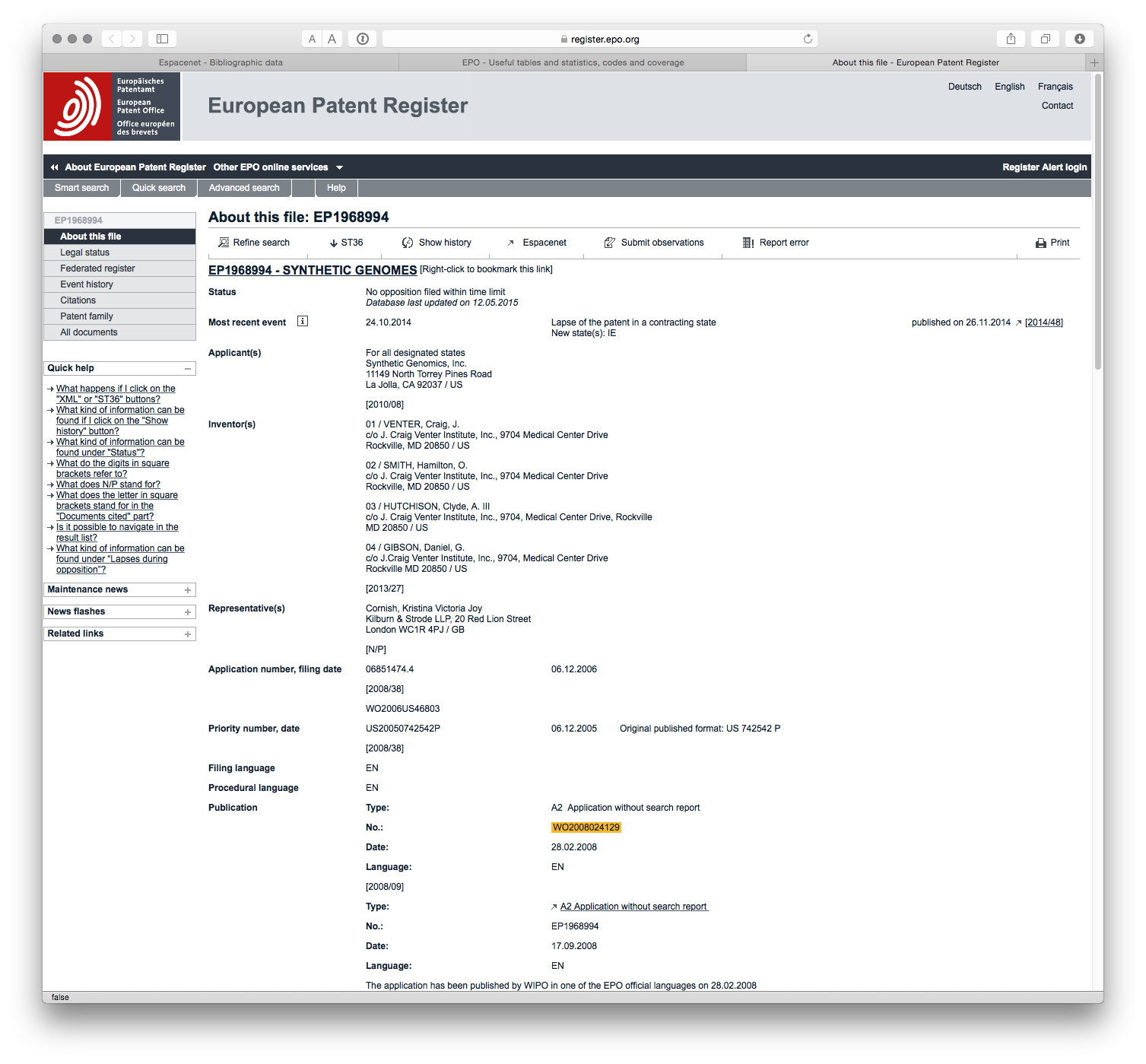 From this information we can see that no opposition to the patent application was filed within the time limit. We then see that the most recent event is a lapse of a patent in Ireland (IE) along with the publication history. If we scroll down the page more information becomes available.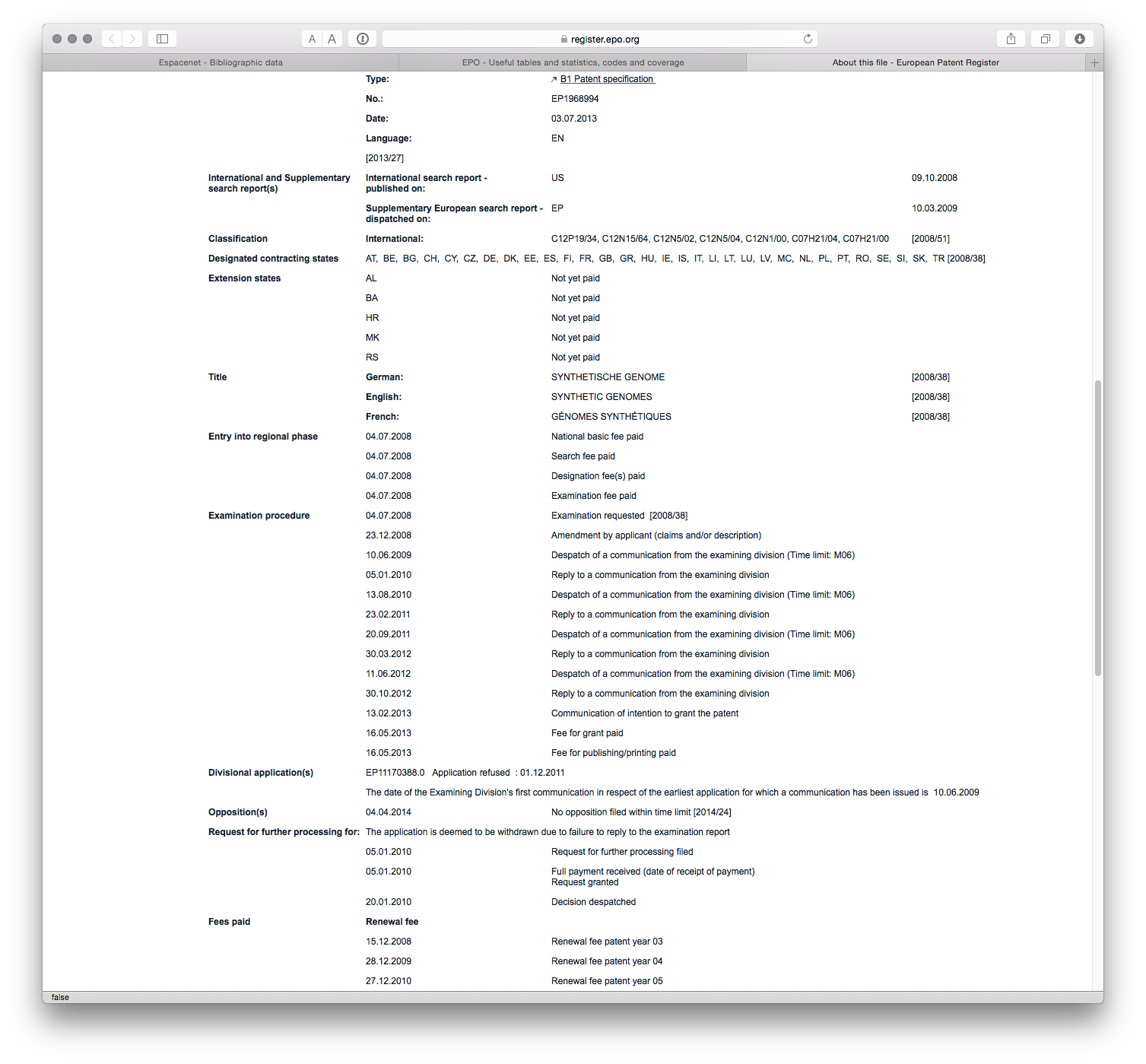 In this case we gain access to information on the written communication history between applicants and the EPO along with details of the payment of patent renewal fees. Out of sight on this image is citation data including the DOIs of cited literature that will link directly to the article concerned where available.
On the menu to the left additional information is available. The federated register menu provides access to the national patent registers of designated contracting states under the European Patent Convention as can be seen here.
Finally, the menu item All Documents provides access to copies of available correspondence and other documents that can be downloaded as a Zip archive. It is also possible to submit a third party observation using the submit observations button in the menu.
Data within the register can be particularly useful for exploring the history and status of an application such as the modification of patent claims in light of search reports. It is also very useful for identifying and reviewing opposition to a particular application.
Within Europe it is quite easy to consult register detail. To assist with accessing registry information in other countries WIPO has recently launched a Patent Register Portal to simplify the task of locating the patent register in countries of interest.
Round Up
In this chapter we have walked through some of the most important patent data fields using a single example and the espacenet database. As can now be appreciated a basic understanding of patent data fields opens ups a lot of additional information about a single document of interest.
These basic fields are also the building blocks for sophisticated patent analysis. In future articles we will focus on:
Retrieving data with these fields
Cleaning up the data in these fields
Mapping Trends
Network Mapping
Geographic Mapping